Why Equipment Leasing Makes Sense For Your Business
By: Ryan Attelle
Equipment leasing is a great options for almost any business, especially those with dreams bigger that their wallets. AllOptions is a great way to get connected with those who are able to lease equipment for your particular situation.
Equipment leasing in its most simplest definition is basically a long term rental agreement. In this case it is called a lease. There are usually two parties involved those who are leasing the equipment, the Lessee, and those who are leasing it out, the lessor. Between the two an agreement of payments is reached. These payments are set over a fixed period of time. When the time set in the agreement has run out the equipment is returned. In most cases there is an opportunity to purchase the equipment at that point.
So why wouldn't you just outright buy the equipment, then you never have to worry about returning it. Well most prefer leasing equipment they get all the benefits of using the equipment when ever they want with out the all of the responsibility that comes with ownership. It is also a very attractive options for businesses with only limited resources. Instead of having to pay everything all at once they can pay a little at a time for new equipment. This helps make even seemingly impossible goals much more attainable.
So how do you know if equipment leasing is the right option for you? Well, in reality leasing equipment is a viable option for, well almost anyone. You can leas equipment for almost any industry. The most popular categories include medical equipment, industrial equipment, construction equipment, heavy equipment, business equipment, computer equipment, office equipment, telecom equipment, automotive equipment, agricultural equipment, transportation equipment, hotel & restaurant equipment and much more.
You found out that there is a lot of equipment for lease available to you, now you have to decide on a leasing option. There is a True Lease used mostly for federal income tax purposes. This type of lease offers the option to purchase, renew or return the equipment at the end of the agreement . There is a synthetic lease which is structured to qualify as an operating lease for financial reporting purposes but it is important to note that the Lessee is considered the tax owner of the equipment. Lastly there is what is called a TRAC lease short for Terminal Rental Adjustment Clause Lease. This lease limited to titled motor vehicles providing the cost advantages of a True Lease with the added benefit of a predetermined purchase provision (which is guaranteed by the Lessee.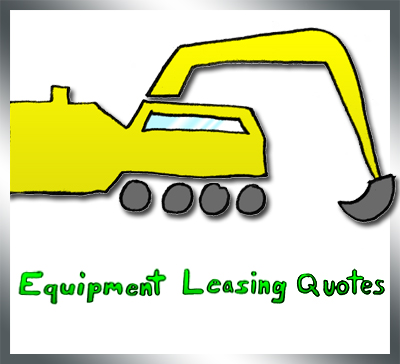 Equipment leasing has grown into a popular option for companies like yours that need to get new equipment. The major advantage is that you get to avoid all the up front cost and hassles. Leasing Equipment lets you pass on the expense. So how in the world are you going to even start shopping around for equipment leasing. Well you might want to start by learning some of the language used in the business. AllOpionts is a great resource for this information, just check out there
Equipment Leasing Categories
List. There are ton of advantages to using AllOptions. Brian Attelle, Senior Web Designer and Content Manager at all options explains "Many people can spend hours searching for an equipment leasing company that's right for them. These days it's typical to start with an internet search which can yield hundreds of results. Then there is the sifting though which are legitimate or not; finally finding a few to contact, only to find out they cant help out with a specific situation. It is always possible to go "old school" and look through the phone book, but chances are slim that one will find what they are looking for. It is much easier to just sign up with AllOptions. AllOptions matches businesses up with the right equipment leasing company though there unique questioner forms. Buy doing so the equipment leasing company's that can provide the service will, and they know they are competing with one another, so by using AllOptions extra competition has been created thus ultimately lowering cost. Best part of all, its free and there is no obligation."
In conclusion equipment leasing is a great options for almost any business, especially those with dreams bigger that there wallets. AllOptions is a great way to get connected with those who are able to lease equipment for your particular situation. The most simple, quick, easy and hassle free way to start expanding your business.
Connect with
Ryan on Google+
or Go Back to
Article Index
Tweet